MENU
We offer set menus, assembled upon the seasonal ingredients we receive from specially selected farmers and fishermen around Japan. Not tied solely to Italian cuisine, the Chef and his team will welcome you with innovative and original dishes. We also offer cutting edge vegan set menu for lunch and dinner. (Photo example: vegan appetizers)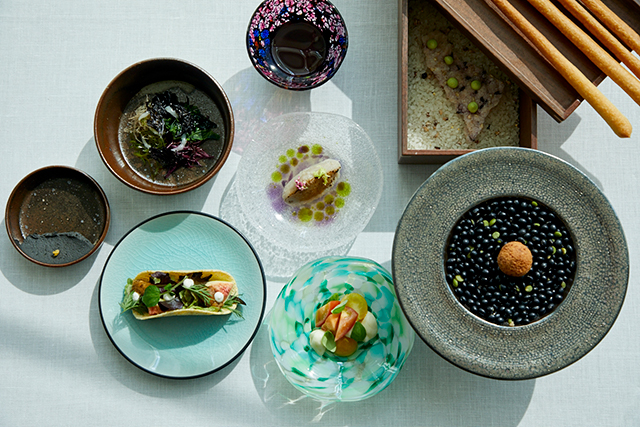 Lunch set menu(4 courses~)

¥10,000

Vegan lunch set menu
(4 courses~)

¥8,000

Wine pairing(3 kinds)
*Limited time

¥3,000

Non-alcoholic pairing
(3 kinds + coffee or tea)
*Limited time

¥2,000
Dinner set menu(10 courses~)

¥20,000

Vegan dinner set menu
(10 courses~)
*Reservation required one day
in advance

¥12,000

Alcohol pairing

¥12,000〜

Non-alcoholic pairing

¥8,000〜
To enable our guests to enjoy the full Faro experience, we exclusively offer set menus for both Lunch and Dinner. Please advise us of any dietary requirements as you make reservation.
Lunch sets menus includes mineral water.
Prices include consumption Tax(8%), do not include service charge(10%).
Photographs are for illustrative purposes.
Please enjoy our alcohol and non-alcohol pairing drink carefully selected by our sommelier according to each dish.
We also provide a rich variety of wine. For more information, please contact us.